February 18, 2021
CHILLI designs Co-op's Irresistible Easter packaging as retailer removes internal plastic protection and windows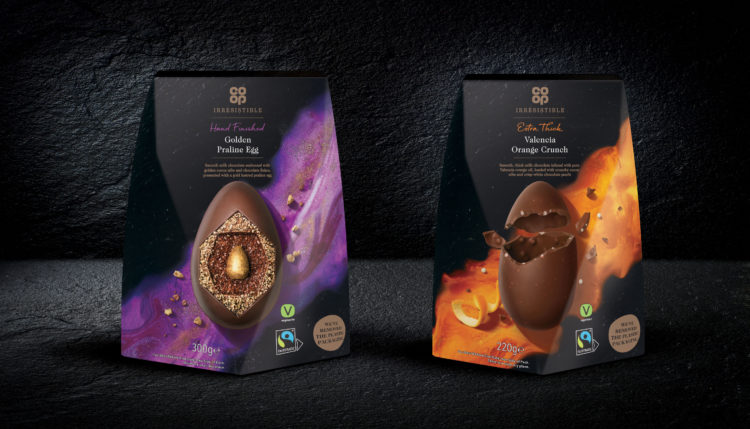 CHILLI have created this year's Easter packaging design for Co-op's Irresistible range as the retailer confirms that it is removing plastic packaging from its own brand Easter Egg range.
The team was approached by the leading convenience retailer to take on the challenge of creating the design for this year's Irresistible Easter product packaging.
Co-op has said that it is removing the inner plastic packaging and windows from all its hollow Fairtrade Easter Eggs.
The agency worked with Laurence Hudghton on the photography who also work with us on the rest of the Co-op Irresistible range.
Co-op's Packaging Design Manager, Andy Swift, said: "The challenge for CHILLI was to create a design that now used all sides of the packaging as the window had been removed. The brief also included creating a design that had in store impact with strong shelf stand out and that challenged the photography application of the design to showcase the products structure. I knew there was something special about the chosen concept and was confident both CHILLI & Laurence's could deliver the creative ambition. I'm super proud of what we've delivered and can't wait for everyone to see them on shelf".
Co-op's Environmental Manager Iain Ferguson said: "Easter Egg packaging is renowned for its excessive use of unnecessary plastic, whether to protect the chocolate or to display the design of the confectionery. Our teams have worked incredibly hard to deliver a solution that ensures the egg is still protected whilst allowing our customers to see all the aspects of the eggs and their stunning designs. This really is a positive step within the packaging industry, especially for seasonal Easter lines".
The Irresistible range consists of Co-op's Irresistible Hand-Finished Golden Praline Egg and Co-op Irresistible Extra Thick Valencia Orange Crunch Egg
Co-op's Easter ranges launch in store from w/c 15th February 2021.