April 3, 2020
CHILLI'S MACARONI CHEESE WITH A DIFFERENCE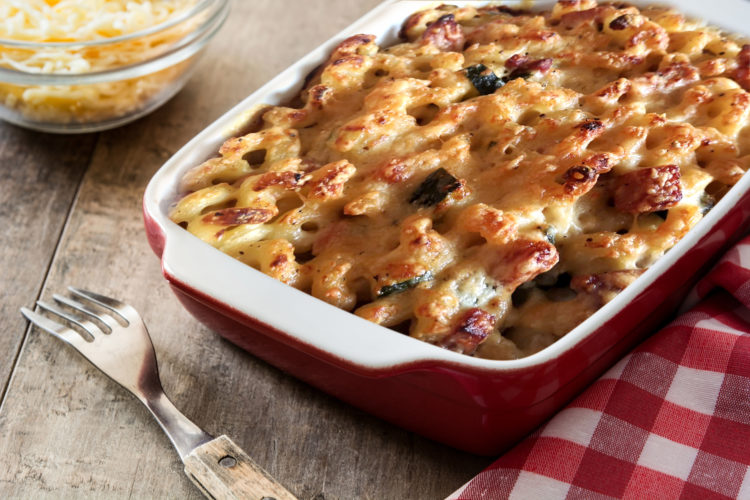 At CHILLI, we thought we'd share some uplifting and exciting recipes to help keep you busy and inspired while we're all at home.
We've been working with our Chef Consultant, Steph Moon, to create some super tasty meal ideas for you to enjoy at home using the bits you have in your cupboard. After all, if there was ever a time for getting creative, this is it.
So go on. Check out this classically comforting Macaroni Cheese recipe.
Follow along below or if you want to watch Steph perform this recipe from her kitchen, you can!
Ingredients and ideas for swaps as needed…
100g mature cheddar
250g Macaroni
1 small onion
1 fresh bay leaf
½ tablespoon of vegetable or olive oil
½ pint of milk
30g butter
40g plain flour
2 gammon steaks, some bacon rashers or a vegetarian alternative
1 courgette
Let's cook
1. Preheat the oven to 180°c.
2. Peel and finely chop the onion.
3. Dice the gammon/bacon/vegetarian alternative.
4. Grate the cheese ready.
5. Fry the onion in a pan with the oil until soft along with the bay leaf on a medium/low heat.
6. Add the diced gammon/bacon/vegetarian alternative and stir. Put the lid on to cook for a couple of minutes.
7. Now add the courgette, stir and cook for a further 2 minutes, then tip into a dish.
8. Cook the macaroni according to the instructions on the packet and drain.
9. Meanwhile start to make the cheese sauce by heating the milk in a pan on a low heat.
10. Now add the butter in a different pan on low heat until it melts and then using a wooden spoon mix in the flour to the melted butter and stir all the time to stop sticking.
11. Once combined and cooked for a couple of minutes start to add the hot milk, ladle by ladle until you have a thickened smooth sauce. You may want to whisk this to remove any lumps and season. Now add most of the cheese and mix until melted.
12. Mix the cooked pasta, onion mixture and sauce in a large bowl and season to taste.
13. Place in a large ovenproof dish, top with the remaining cheese, a grinding of black pepper and bake in the oven for 20-30 mins until golden brown and bubbling.
Enjoy.