April 1, 2019
Helping Saltaire Brewery Into A Can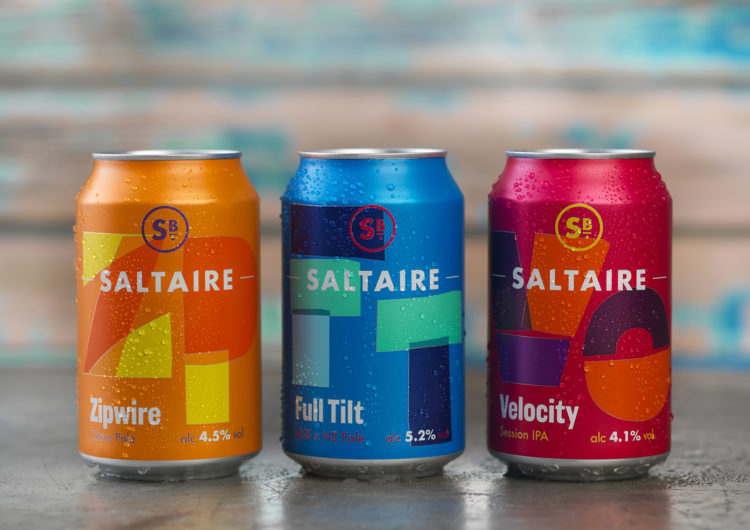 Amid a craft ale revolution Saltaire Brewery is letting drinkers choose the vessel they pour or sip from: the traditional brown glass bottle or lightweight aluminium can. Working alongside the team here at CHILLI, the brewery is pouring three favourites into can-format for craft beer connoisseurs.
In 2018 our creative team successfully revitalised Saltaire Brewery's brand identity with the new packaging design injecting modernity onto traditional bottles. Bright colours and bold tones cut through the noise of a busy category while the crest and logo redesign took inspiration from the brewhouse and street signs in Saltaire village. The refreshed range debuted last summer bringing the brewery up to date while simultaneously tying the brand back to its roots.
Rewind a year and trends show the booming growth of canned craft beer sales over bottles. Continually on the lookout for products to fit their busy lifestyles, consumers are drawn to products to simplify their lives. The can is ideal: lightweight, convenient and chills quickly, can feature 360 degrees of eye-catching artwork and infinitely recyclable.

From a brewer's point of view cans are designed to stack efficiently, resulting in no wasted storage space. Being lightweight they are far cheaper and safer to transport; a single can weighs approximately 20% of the weight of a 330ml bottle. The metal used in production is 100% recyclable and can be recycled over and over, making a strong sustainability argument for canned craft beer. Quick to respond to this thriving trend, Saltaire Brewery has increased its extensive offering by transferring three favourite brews into cans.
Jordan Madrick, Account Director at CHILLI, said: "After delivering such a successful rebrand for Saltaire Brewery it has been an exciting challenge to take the design and roll it out in a new format. We have managed to seamlessly transfer the packaging design from the bottle onto a can format, ensuring standout appeal on shelves with effective brand blocking. To make the flavours instantly recognisable we used the same vivid colours and overlap design, highlighting the creative approach of the recipes. You get a great branded beer drinking experience, whichever receptacle you choose!" Zipwire, Full Tilt and Velocity are now available in 330ml bottles and cans at selected regional Co-op branches.