January 6, 2016
CHILLI'S DESIGN GOES GLOBAL WITH YORKSHIRE PROVENDER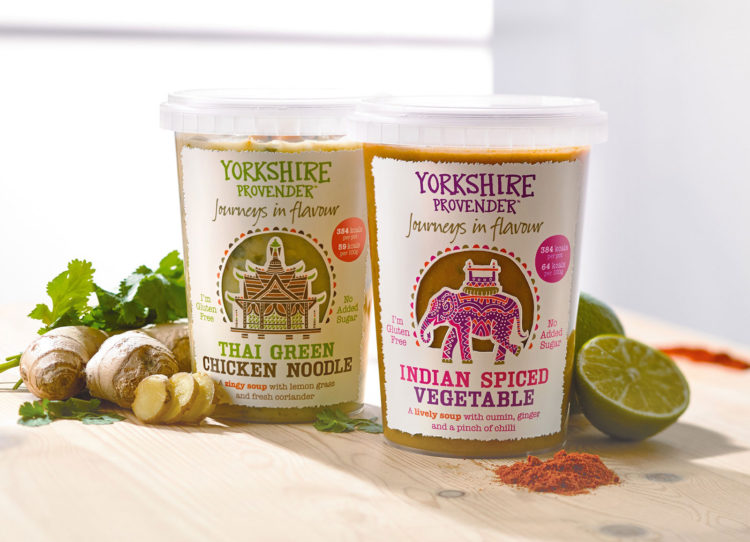 JOURNEYS IN FLAVOUR
Yorkshire Provender has launched two new 'world soups' inspired by the travels of founders Belinda and Terry Williams with packaging created by brand design agency CHILLI UK.
---
SOUP THAT TAKES YOU THERE

Having met in the unlikely location of Cape Tribulation in the Australian Rainforest, Terry & Belinda were lucky enough to travel the world, tasting great food and discovering new recipes along the way.
The new soups – Yorkshire Provender, Journeys in Flavour take inspiration from these experiences, and are designed to fulfil a growing demand for exotic and spicy, yet authentic, flavours, especially in the younger soup lover. At the same time, the new soups aim to deliver the most delicious taste that Yorkshire Provender soups are known and loved for.
CHILLI MD David Whittle comments: "We wanted the new design to quickly transport consumers to the places that the soups were inspired by and the memories that Belinda and Terry have. We also wanted to retain the integrity of Yorkshire Provender positioning as a premium brand across its other core ranges".
As with all Yorkshire Provender soups, the new soups have no added sugar, and this is clearly communicated on-pack, to give consumers reassurance.  Mintel's Prepared Meal Review (UK May 2015) highlighted the worrying level of consumer distrust towards prepared food, with 30% of consumers thinking ready meals contain too much sugar.
Yorkshire Provender founder Belinda Williams comments: "We hope soup consumers join us on a journey in flavour with these delicious new soups, which combine our culinary passion and our family experiences whist travelling"
Thai Green chicken Noodle and Indian Spiced Vegetable are initially available in selected Co-op stores priced at £2.49.
---
Please Download our Food2Go white paper by entering your details below:
---