October 20, 2015
PAUL HOLLYWOOD TO LAUNCH NEW RANGE INTO RETAIL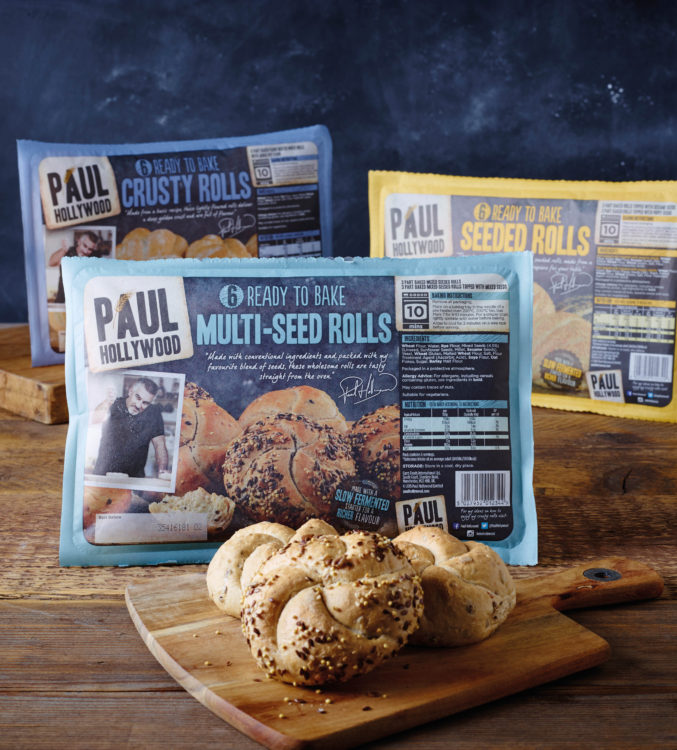 PAUL HOLLYWOOD
A new range of ready to bake rolls crafted by the renowned baker, Paul Hollywood is launching into Tesco, Waitrose, Budgens and Ocado stores from the autumn in partnership with Carrs Food International.
---
Fresh Design

The packaging for the new range has been designed by brand design agency CHILLI UK and is set to give consumers the opportunity to eat good quality, fresh crusty rolls when they want.
Made with a slow fermented starter dough (a blend of flour, water and yeast), which has been fermented for several hours before being added to the main dough to deliver a richer flavour; each bake has a 'clean' recipe that has been created by Hollywood and the innovative bakers on the Carrs Foods development team. The rolls simply need to be put in the oven to produce freshly baked bread to a Hollywood standard.
The distinctive packaging created by CHILLI uses an artisan look with quotes by Hollywood to deliver different product benefits.
Anticipated to create a new sector within the bread category the launch is expected to drive consumers to the fixture in search of premium quality, ready to bake crusty bread rolls. Jeremy Gilboy, Managing Director of Carrs says "Part–baked breads have become a very commoditised section of the market that has really lacked innovation or interest. With this new ready to bake range of rolls, we are creating a different product – a top quality bread roll that consumers haven't previously had access to in a convenient format."
It will drive home the message that the range is suitable for all the family for usage across the whole week with a variety of different meals/occasions. There will also be extensive support across a variety of social media channels and digital platforms.
Hollywood backs this up saying "The range gives consumers the opportunity to enjoy a premium baked crusty roll that is easy to turn out and takes minimum skill or fuss to produce.  They are set to add a new dimension to the Bread category, and attract new audiences as well as enhancing sales from existing consumers of ISB and part-baked."
Six rolls to a batch, the new range is available in crusty white, seeded or multi-seed varieties. All are available from RRP £1.49 in Waitrose, Tesco, Budgens and Ocado stores from October 2015.
---